Create an Affiliate Starter Kit for your WordPress, Shopify or Squarespace store
Charge a fee to join your affiliate ambassador program
by Sarah Hutchings
---
Posted: Thursday 3rd June 2021
---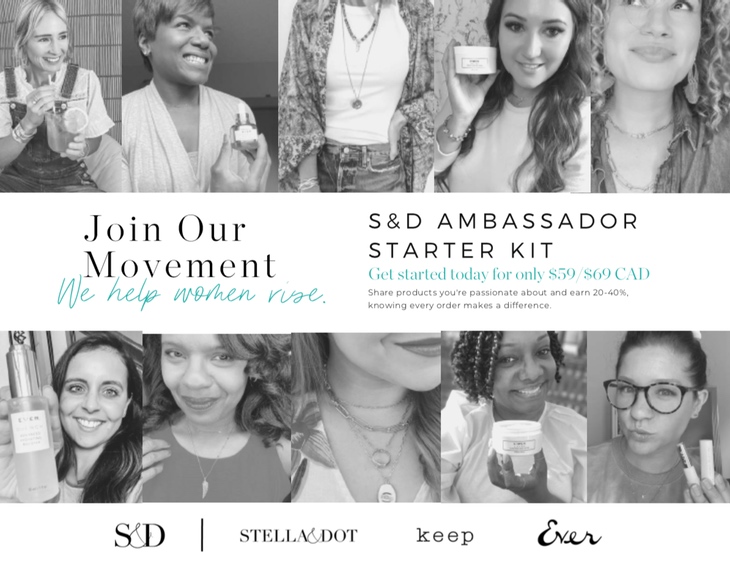 The 'Pay to Join' Option
You may elect to charge people a fee to join your affiliate or ambassador program by offering a Starter Kit of products, or request they purchase a one-time membership to join your affiliate program.
This feature is available on ShoutOut's Essential, Growth and Pro (paid) plans.
Let's take a look at how to set this up in your WordPress (WooCommerce), Squarespace, or Shopify store with ShoutOut.
Why Charge a Fee?
The very best multi-level marketing (MLM) companies and affiliate programs all require new affiliates to pay a fee to join their programs. It ensures new affiliates are fully invested into making a success of referring customers to your business.
The recommended option is to provide a Starter Kit that contains samples of your best and most popular products.
The Role of Starter Kits
Starter kits are a vital element of all large affiliate programs. They are the mechanism by which people get the essentials they need to start promoting your products and, at the same time, get automatically enrolled to become affiliates.
You'll find them under a range of names, including starter kits, accelerator kits, enrolment kits, consultant kits, and essentials kits, to name a few.
The perceived value of the kit is pitched as high, while the actual purchase price is low, such as the examples from Pampered Chef below: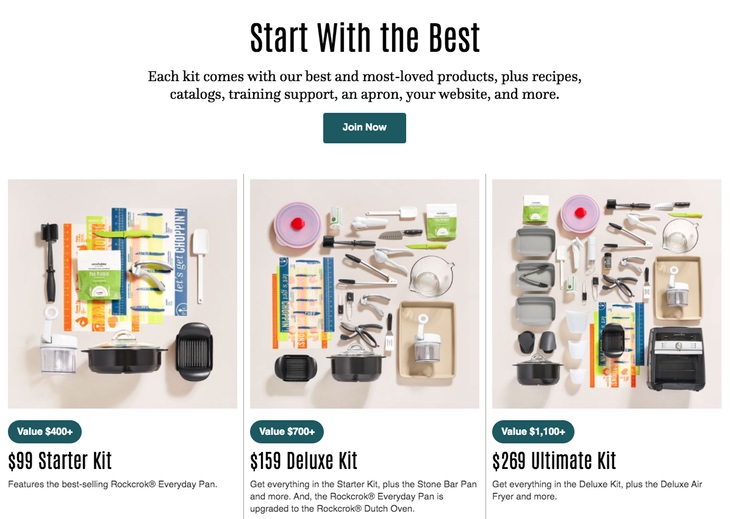 What to Include in Your Starter Kit
Consider what your new affiliates and ambassadors need to know to start effectively promoting your products.
Typically, beginner affiliate and ambassador kits contain things like:
Most popular products
Product guides and catalogues
Business building materials
Information on how to get started
Exclusive branded merchandise
Access to online training and tools
As an example, the Business in a Box Kit from Tropic contains products, training, and a business guide to set their affiliate's up for success: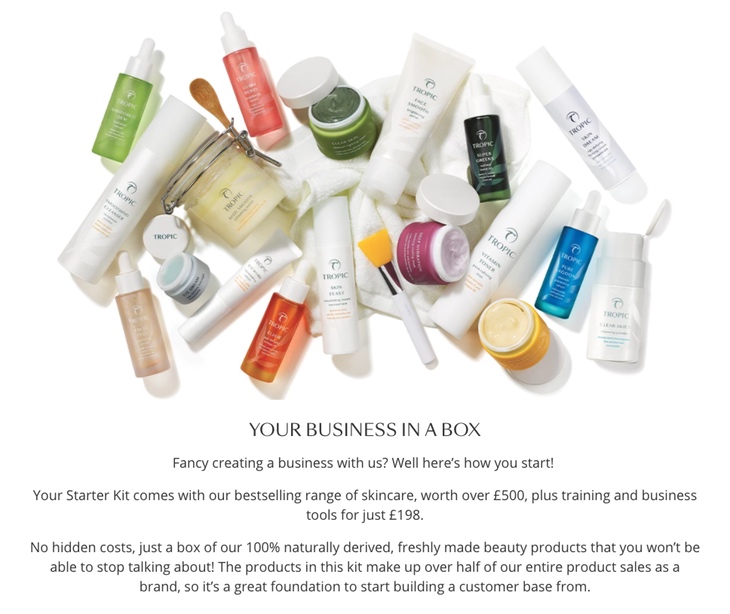 It provides an excellent low cost and low-risk way for individuals to start their own business, and earn extra income from promoting products they already love and use.
How Many Kits Should You Offer?
There is no one size fits all answer for this. You'll see examples such as Tupperware, where they only offer one option - their Accelerator Kit.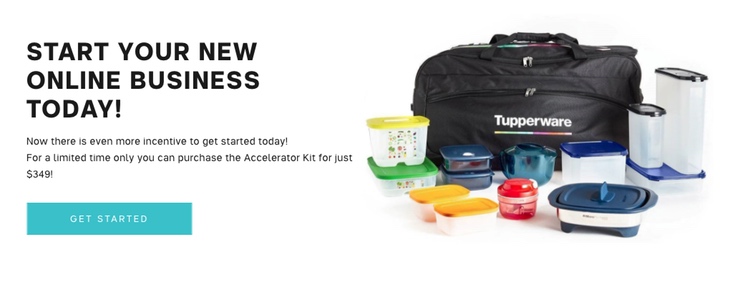 Other companies like Doterra offer six different Enrollment Kits: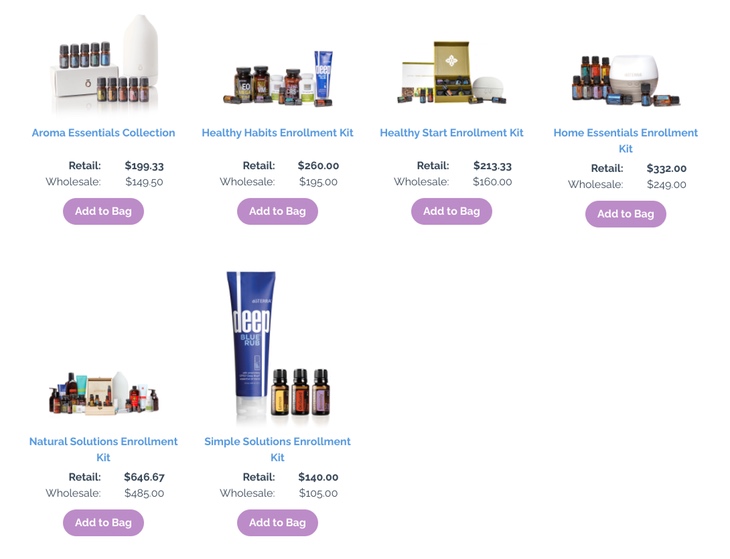 When starting, our recommendation would be to create one option. When your program gets more advanced, offer three options and price them from low to high. Some people always want the best, some want the cheapest, and most will choose the option in the middle.
Combine 'Pay to Join' with MLM
To really skyrocket your growth, consider adding multi-level marketing (MLM) in combination with a 'Pay to Join' option.
MLM is where existing ambassadors or affiliates invite others to join your program.
Your existing affiliates may get rewarded for recruiting others to your network, and they may also earn commissions from their recruits' efforts, as well as their own sales.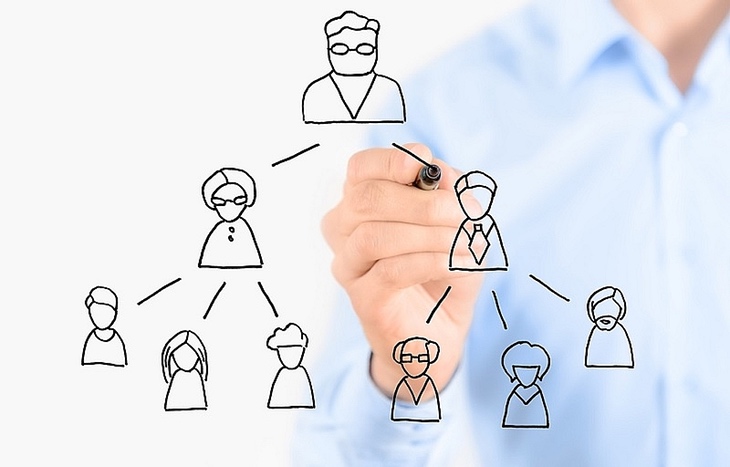 Hugely successful companies like Amway and Tupperware have been using this strategy for many years. They all form part of the Direct Selling industry, which in the U.S. is worth a staggering $55 billion in 2021 alone!
We cannot emphasize enough, how combining a 'Pay to Join' option with MLM, can substantially grow your business sales, and provide exponential network growth.
How to setup a Pay to Join option with ShoutOut
Within your store's admin, create your Starter Kit(s) as a product within your store, just like any other product. Please note, this product must be purchased as a normal product, and cannot be a subscription handled by a third party App.
You may create an unlimited number of Starter Kits or Membership options at different prices. As these 'products' are being created in your store, you have complete control over what is offered.
Once you've created your joining product(s), add a SKU code to each of the products offered. To ensure ShoutOut is able to detect that this is a starter kit or membership product, the SKU code must begin with 'JOINPROGRAM' (note capital letters).
As an example if you create three Starter Kits, each SKU code would be:
JOINPROGRAM1, JOINPROGRAM2, JOINPROGRAM3
When a potential new affiliate or ambassador purchases their selected starter kit, ShoutOut will recognise the SKU code and add the individual to your affiliate program automatically.
ShoutOut will also automatically email them your Welcome Letter, together with access details to their very own dashboard.
The new affiliate is then ready to refer business to your store via their own referral links and optional coupon/discount codes that ShoutOut provides them.
Disable the normal Signup Page
As you'll be providing a 'Pay to Join' option, we recommend you disable the normal free sign-up form provided by ShoutOut.
This can be easily disabled in ShoutOut > Settings > Preferences > Remove Signup Option
Summary
We hope you find the above information helpful.
A Pay to Join option is truly a powerful strategy to encourage affiliates and ambassadors to create their own business within yours, as well as an excellent additional revenue stream to your store.
As always, if we can be of any further assistance, please don't hesitate to reach out to us here.