Moxi Skates - The Global Affiliate Marketing Success Story
by Sarah Hutchings
---
Posted: Tuesday 26th May 2020
---
Moxi Skates is a California based roller skate brand aiming to make roller skates, the new shoes of the future.
Michelle Steilen started the business in 2008 selling skates out of the back of a kid's clothing store. With her passionate promotion, it wasn't long before the brand was picked up by retailing giant Urban Outfitters.
Celebrity customers soon followed, such as Michelle Williams, Willow Smith, Sofia Vergara, the Kardashians and Selena Gomez. Moxi Skates has also featured in hit TV shows such as Modern Family and Parks & Recreation.
Moxi Skates are now stocked in 400 stores across the US and have nine different distributors all around the world. With regular visits to roller skating communities all over South America, Asia, Australia, Europe and the UK, this brand is truly global.
I had the pleasure of speaking with Moxi Founder Michelle about the success of www.moxiskates.com and how she is using affiliate marketing to supercharge her business.
With love and Moxi to all that roll, here are the highlights of my chat.
How did Moxi Skates get started?
"I had the idea to create an outdoor roller-skating culture. So, I opened up a shop in the back of a kids clothing store and promoted free roller-skating lessons and themed parties on wheels.
I wrote to a roller-skating manufacturer that already sold skates. They had models that had been sitting on the shelves since the late 70s that hadn't been selling. So, I took some of those models and dressed them up a little bit with accessories and called them things like the "Farrah Fawcett". They were sold, along with free roller-skating lessons from me."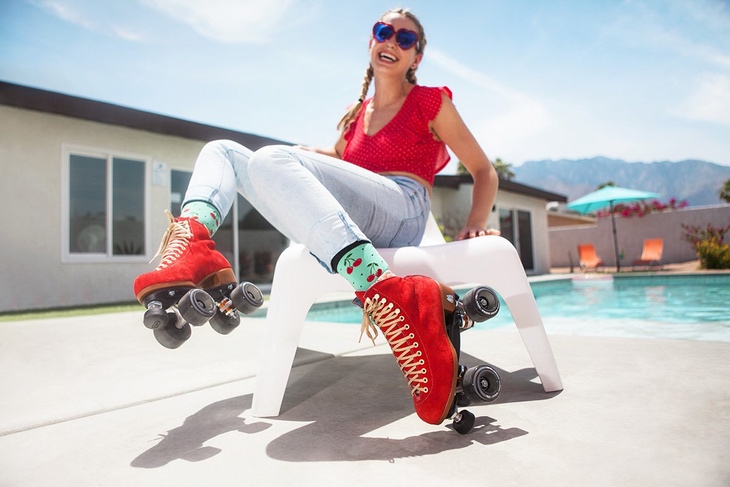 How Did You Promote Your Skates?
"I wanted to bring roller skating to the stores that I shopped at. So, I started doing sales and promotions and making a lot of videos. I got my roller skates into Urban Outfitters, and that's a pretty big well-known store that a lot of publicists look at for trends. Publicists quickly learned about my brand and then put the brand on celebrities' feet.
The more attention the brand got, the more pressure there was for us to be great skaters. So we started to create our own content that became viral."
What Made You Move Online?
"Our first ecommerce site happened after I knew that Urban Outfitters picked up the brand. That's when I realized that I could fully commit all of my time to make the products the best that they could be, and put the skates on the feet of some of the most interesting personalities, to show how relatable, unique and inclusive roller skating can be.
When I started my store, I really didn't know anything about business. I just knew that this was something worthwhile dedicating my entire life to because of how happy and passionate it made me.
Roller skates are a complicated, expensive and precious thing to make. There are so many materials – leather, PVC, steel, polyurethane, rubber & fibre. I realized pretty early that with the popularity of the internet, it would be really difficult to compete with online retailers as a physical retail store so I went 100% online!
As a skater, I really wanted to get out of the physical store because I felt like a lion in a cage.
I wanted to skate and experience the rest of the world."
Why Start an Affiliate Program?
"It was apparent to me that roller skaters who were passionate really drove sales at the ground level. When I was growing up, what made me want to buy the products was the skaters that used them."
Michell found sharing profits through an influencer program like ShoutOut was the only way to validate their influence and share profits to encourage them to keep promoting the brand.
Michelle says, "They're the ones on the ground level that need to be appreciated."
How Many Affiliates Do You Have?
"We currently have about 25 affiliates. There was a bit of a transition going from sponsoring athletes to awarding them for sales and recognizing that they are more "sales reps" than they are athletes.
It's an old school sales rep, but it's a new school influencer. People fall in love with not so much their skills but their realness, their authenticity, their personalities."
How Do You Keep Affiliates Motivated?
We used to give out free skates, products, trips and travel budgets to skaters. But now we're transitioning from that old-style way into the new style way of trading these affiliate links and sharing our profits in exchange for content."
Michelle's skaters make weekly videos in exchange for a percentage of sales. The more revenue they bring in, the higher their commission. Automated increases from ShoutOut keep them motivated.
Michelle's affiliates also have a chance to earn more products, film equipment, travel or anything that makes their promotions easier.
How Do You Pick the Best Affiliates?
"There are all different kinds of Influencers, and you have to treat each one a little differently.
Some influencers are just like "I've got a code, I'm driving sales - let's go!". They're making their own content, and you don't have to tell them anything. Revenues coming in, they are just made for it. Those are the easiest to work with. The ones that are comfortable, promoting themselves, make way more money.
But then there are other people who have a lot of loyalty with their following because they don't bombard people with advertising and products. For those people, it's so much easier to give them ideas of video content that we need."
Sales Reps & Publicists - All-in-One
"The ShoutOut program has been the easiest way to employ and appreciate people for their promotions.
Having an influencer program like ShoutOut takes the sales reps and the publicist and combines them into one. You get your customers to speak about their experience with your product, authentically."
Do You Recommend Affiliate Marketing Programs?
"Yes! I would hope that this becomes the future of sports equipment promotions. It's a valuable tool, because putting people on products is something that's really common.
Anyone in the surf, skateboard, scooter, BMX, rollerblading industry where we are used to waiting for sponsorships and brands to validate our promotions, this empowers us!
Our best customers have become our best sales and customer service reps, and they should be rewarded for that work."
Do You Recommend ShoutOut?
"I absolutely recommend ShoutOut, and I have!
"ShoutOut works perfectly with Shopify. You can link discount codes and the App is so easy to use. You just go to your backend of your website, and you can easily create a new affiliate, change their discount or their commission. You can customize the code that they're using. It's the easiest way to share profits with people that are working for you.
Related Links
Check out Moxi Skates by visiting: https://www.moxiskates.com/