Acquire valuable subscribers
How to setup subscriptions and auto-shipments in combination with Shopify affiliate marketing
by Sophie Alvsaker
---
Posted: Friday 22nd Febuary 2019 | Updated: Wednesday 14th August 2019
---
For setting up subscriptions with WooCommerce refer to this article here: WooCommerce setup
---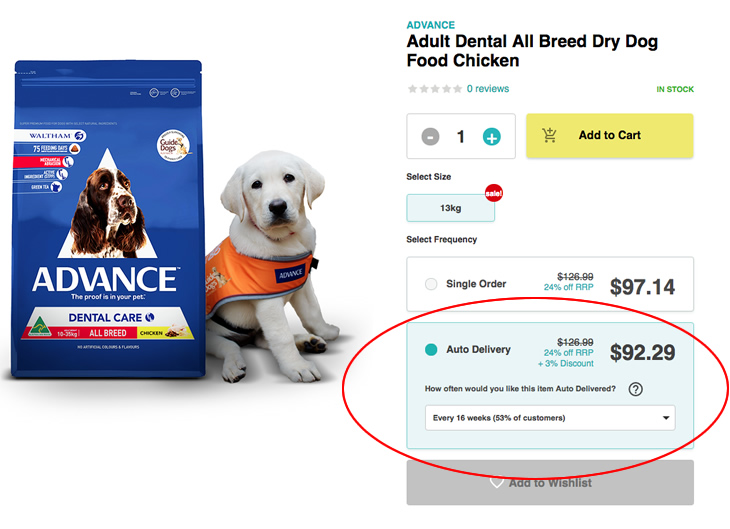 ---
Subscriptions & auto shipments
Many e-commerce merchants have discovered that offering a subscription option and auto-shipping products or services on a regular basis to customers can build a phenomenally successful business.
Unlike a traditional e-commerce store where customers make a one time purchase, savvy store owners who offer a subscription option enjoy repeat orders on a regular basis, predicability for cashflow, and greater customer loyalty.
How to attract subscribers?
Customers who subscribe to your products or services are highly valuable as you'll be receiving revenue from them on a regular and ongoing basis.
Using affiliate and influencer marketing to attract these high value customers offers a wealth of advantages including:
The ability to target your exact audience
Distribution of attractive coupons via influencers
Improved credibility via recommendations
AND only needing to pay on actual sales results!
How to setup subscriptions with Shopify
To provide a subscription or auto ship option you'll first need to setup a third party App to manage repeat orders. For Shopify we recommend one called Recurring Invoices as it requires no changes to ShoutOut to have it work in combination with your referral program.
If you're looking for something more automated and powerful also checkout ReCharge. ReCharge (and similar Apps) require a few changes to ShoutOut and those are explained further below.
Offer discount codes
Once you've decided on your subscription App, we highly recommend the option to setup discount codes for new subscribers. A small discount is often all it takes to encourage customers to finalize that all important sale. If you're using a more powerful subscription management app like ReCharge you'll also need to setup your discount codes within this App as it will be handling all subscription checkouts for your store.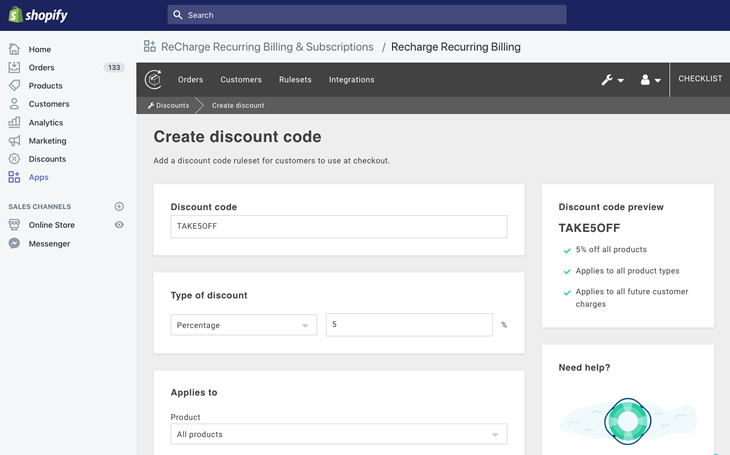 You'll be later providing your affiliates and influencers these discount codes that they will then forward onto potential customers. This also ensures affiliates receive credit for any referred sales.
How to setup ShoutOut for subscriptions with Shopify
To ensure your affiliates and influencers are credited for referring subscribers to your store it's important to also setup ShoutOut correctly.
Go to your Shopify Admin
Select Apps, select ShoutOut
From within ShoutOut's main menu under Settings select 'Preferences'
Tick the 'YES, use coupons only' option (subscription Apps pass on coupon codes but not referral links)
Match Coupon/Discount codes to affiliates
To ensure your affiliates receive credit for referrals, ShoutOut will examine the coupon/discount code used during the checkout process. If the code matches one setup for an affiliate in ShoutOut, the sale will be attributed to that affiliate.
To setup the code to an affiliate:
Go to ShoutOut's main menu.
Select 'View/Edit' under the Affiliates/Influencers heading.
Select an affiliate to edit.
Enter the same coupon/discount code as previously setup in ReCharge and press UPDATE.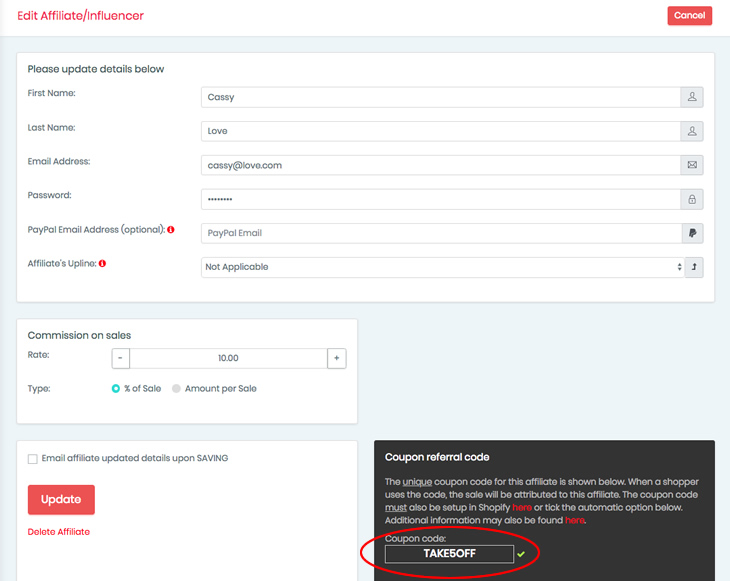 Unique coupon/discount codes should be setup for each affiliate in both ShoutOut and ReCharge.
ShoutOut also has the convenient ability to credit your affiliates for all future sales from the same customer. Simply enable this option in Settings > Preferences and your affiliate will never miss out on their commission on future orders.

In Summary
We hope this allows you to better understand how to setup affiliate marketing in combination with subscriptions. As always, if you have any further questions, please don't hesitate to reach out to us here at ShoutOut.