Affiliate Payouts
How to easily pay your affiliates using ShoutOut
by Sophie Alvsaker
---
Posted: Tuesday 3rd December 2019
---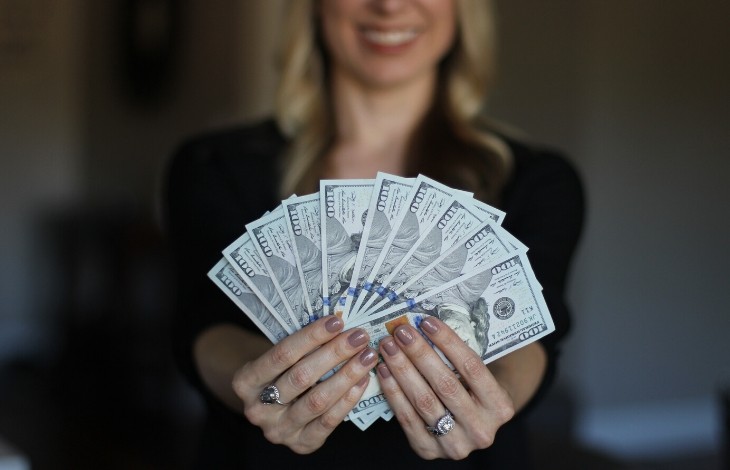 ---
Providing payouts easily
Paying your affiliates on a regular basis is an important part of keeping your affiliates motivated and eager to continue to send you referred business.
In this article we'll show you step by step how to easily setup and pay your affiliates using ShoutOut.
Enable PayPal field
Firstly, make sure each affiliate has an area where they can enter their PayPal email address.
The email address entered here by the affiliate will be the account payments will be processed to.
To enable this field:
Go to ShoutOut admin
From the main menu under Settings, select Manage Fields
Click on the Enabled/Disabled link shown (it needs to show as Enabled)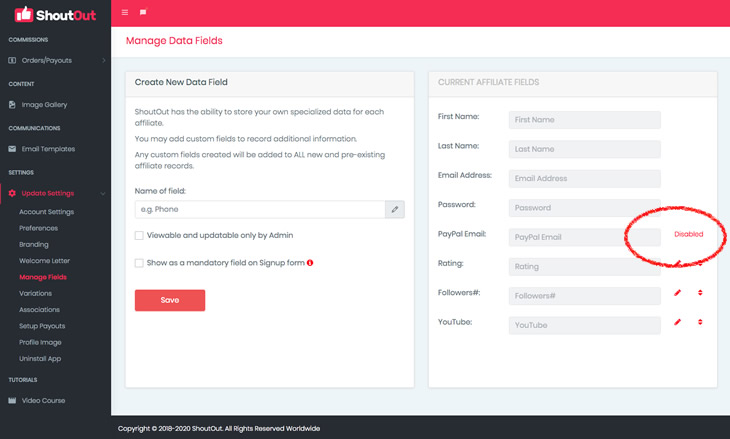 Set up PayPal
Whilst it's possible to use any external third party payment provider of your choice and simply record the payment into ShoutOut (for you and your affiliate to view), it's far quicker and more convenient to integrate PayPal directly into ShoutOut to make payouts easier.
To setup PayPal in ShoutOut, ensure you have an existing PayPal Business Account. You will also need to contact PayPal via phone or chat to have them enable a feature called 'PayPal MassPay'. This feature is not enabled by default on accounts, so contact them to have this activated.
Once PayPal MassPay has been approved you simply need to copy and paste three API keys from PayPal into ShoutOut.
Follow the instructions below to locate the three API keys required:
Login into your PayPal account
Ensure your account is a PayPal Business account or upgrade
Go to Tools on the main menu and select 'All Tools'
Select 'Integrate PayPal' from the left menu
Select 'API Credentials'
Click on 'Manage API Credentials' under the NVP/SOAP API integration (Classic) heading
Ensure 'Request and API signature' is selected and click on the Agree and Submit button
Click on the three SHOW buttons to unlock the necessary information
Copy the three pieces of information into ShoutOut admin > Settings > Setup Payouts > PayPal Setup
Click SAVE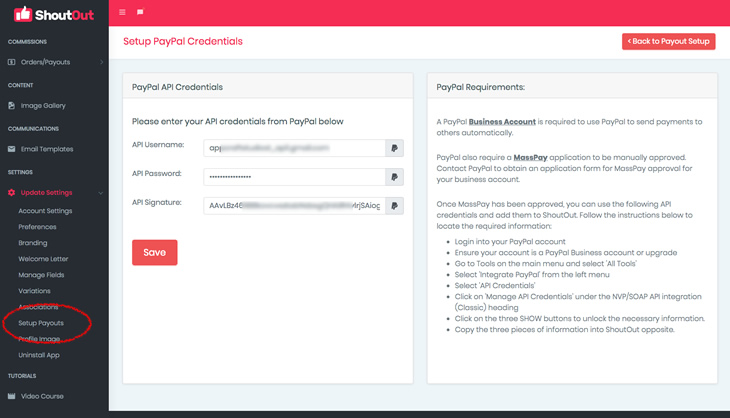 Pay multiple affiliates simultaneously
Once you've added your API keys, and your PayPal MassPay has been approved, you can easily pay affiliates directly from ShoutOut.
ShoutOut provides a super fast and convenient feature to simultaneously pay all your affiliates their outstanding balance due.
Simply go to Orders Payouts > Transactions (1) and select which affiliates to include. Alternatively you can select to pay everyone by ticking the checkbox next to Pay (2).

Click on the MassPay button (3) to proceed to the next step. You may elect to include the option to have ShoutOut notify each affiliate a payment has been made. PayPal also send an email confirmation.
Click 'Pay' to finalize and process the payments selected.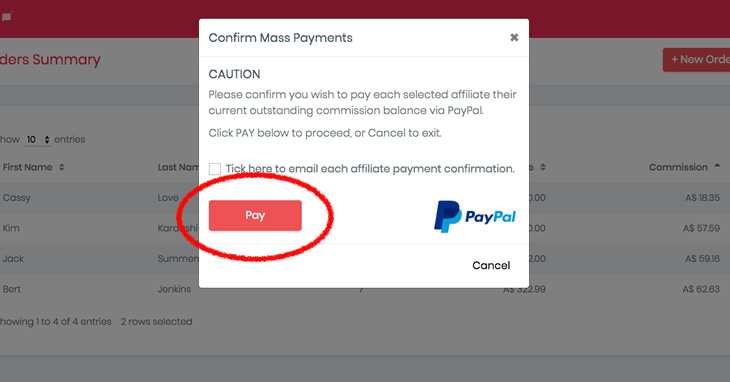 Pay an individual via PayPal
ShoutOut also provides for the ability to select and pay an individual affiliate a designated amount you wish to pay.
To pay an individual:
On ShoutOut's main menu, under the Orders/Payouts heading, select Transactions
On the list of affiliates shown, click on the red icon under the Transactions heading to select the affiliate you wish to pay.
Click on the '+Add Payment' button.
Click on the 'PayPal' tab (1).
Enter the amount to pay (enter numbers only). By default, ShoutOut will show the current outstanding balance due to the affiliate.
Click 'PAY' (2) to finalize and process the payment.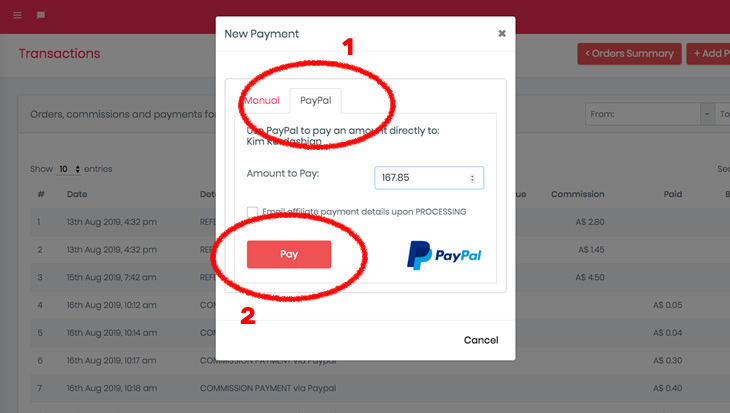 In Summary
As you can see from the information outlined above, paying affiliates using ShoutOut in combination with PayPal is quick, easy, and convenient. As always, if you have any further questions, please don't hesitate to contact us at anytime.